Stevenage Music Centre,
Nobel School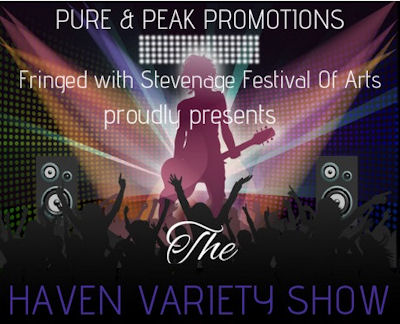 A Charity fundraiser in support of Stevenage Haven bringing a relaxed night of music and entertainment to Stevenage. The show will feature the cream of talent that Stevenage has to offer on a night guaranteed to showcase the amazing and talented performers we have selected.

Performing on the night will be acoustic songstress Jasmin Donavon, Velvet-voiced Tai Isabella, up-coming rappers Azzer, DL, Woody and Poodle, award-winning musical theatre singer Hattie Eason, Hertfordshire's acoustic mega star Mark Sullivan, timeless crooner Tina Rivera, the fantastic Warriorz Dance Academy and many more! There will even be Special Guests too!

There will be a licensed bar on the night!
Tickets: £ 10 - Available from:
Practice Roomz Recording Studio, Unit B, Pond Industrial Estate, Old Town Stevenage – 01438 488681
Bare Bones Recording Studio, Wedgewood Way, Pin Green, Stevenage – 01438 365140
Tornado Event Hire, Unit 6A, The Glebe, Stevenage – 0845 226 9353/01438 353042
Tickets available from 20th May.