Return of Rock in the Park 2016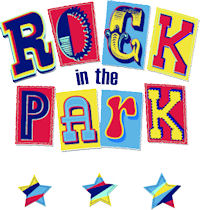 It came back! ... and was free!
King George V Playing Fields,
Sun 12 June, 12.00am to 7pm
Between 1996 and 2007 'Rock in the Park' was a much loved Stevenage event. Taking place in Fairlands Valley Park, it grew from a small concert with about 200 attendees to a yearly fun day for thousands of people enjoying a free family day out. Many local bands performed on the bandstand stage and many ocal people worked hard as volunteers to make the event happen.
Sadly the day became a victim of its own success when it proved impossible for volunteers to continue to deliver such a popular event, within the physical constraints of the Fairlands location, tothe public safety standards demanded today - and to keep it free too. But many people, including the Festival, have never given up on being able to bring back something like Rock in the Park to Stevenage. For the past three years Stevenage Borough Council has worked with local recording studio The Practice Roomz to introduce a music stage to another well-loved local event - Stevenage Day. And this year Stevenage Festival has joined with them to inject a bit more of the old Rock in the Park magic.
So, it was in a park (albeit a different one), it was free and it had a great rock line-up. We brought together the best of our local music talent on two great sound stages, finishing with a great headliner to close the event with up and coming Hertfordshire band Room 94.
The hope for the day was -
"So come along and spend a lazy June Sunday afternoon sitting on the grass with your friends and family with a cold drink in your hand, listening to Stevenage bands old and new. Bring a picnic, enjoy the stalls, kids rides and entertainment that Stevenage Day has to offer and have a great day out."
In reality it didn't quite work out like that:-
Like many years the Stevenage Day afternoon wasn't blessed with the best of weather, it had rained alot and was overcast most of the morning and into the afternoon but mostly the rain was slight and didn't seem to restrict numbers of people coming. The weather was warm. That said, the crowds at the Main Stage built up in number through the day as did the number of people at the Acoustic Stage. Mind you, there was one patch of good luck. Thunderstorms, which had been threatening all day, didn't actually start till about 5-10 minutes after Room 94 finished and then it rained "in Spades" but loyal Room 94 fans waited to meet their heroes after the concert.
The Music was very wide ranging in style from psychedelic Ska to Heavy-ish Metal. We'd like to get bigger and better in future years - more bands, more facilities, but we can only do this and keep it free if we all work together. If you loved Rock in the Park this year then please support us with this first step towards building it back to its past glory. If you think Stevenage needs events like this then tell your friends, tell your local Councillors, tell everyone!
Stevenage Festival -
Keep up with what's happened on our Facebook page: www.facebook.com/RITPStevenage and also have a look at our photo galleries for the Main and Acoustic stages.
Bands and artists on the stages
Main Stage
Acts that appeared in order of performing
Acoustic stage
Acts that appeared in order of performance.
IF you've been on the RITP Facebook you may have seen the image for our Rock in the Park memorabilia T shirts - there are still some available - Here are the costs: £6 for one, £10 for a pair. IF you want one (or two) then get back in touch with us via email on info@stevenage-festival.co.uk stating sizes and we'll organise the sale and getting them to you.
Of course these sort of events take lots of planning and organisation and special thanks go to .... Kriss Lawrence at The Practice Roomz and Geoff Caine at Stevenage Borough Council.
Stevenage Festival
You can find us on our Facebook page or email us using the email link on this page.
Page Last updated: 2 June 2021