"Rock in the Park" - 2019
One more RITP gone.....
King George V Playing Fields
Part of Stevenage Day
60 years of Stevenage Day!
Between 1996 and 2007 'Rock in the Park' was a much loved Stevenage event. Taking place in Fairlands Valley Park, it grew from a small concert with about 200 attendees to a yearly fun day for thousands of people enjoying a free family day out. Many local bands performed on the bandstand stage and many local people worked hard as volunteers to make the event happen.
Sadly the day became a victim of its own success when it proved impossible for volunteers to continue to deliver such a popular event, within the physical constraints of the Fairlands location, to the public safety standards demanded today - and to keep it free too. But many people, including the Festival, have never given up on being able to bring back something like Rock in the Park to Stevenage. For the past three years Stevenage Borough Council has worked with local recording studio The Practice Roomz to introduce a music stage to another well-loved local event - Stevenage Day. And last year Stevenage Festival has joined with them to inject a bit more of the old Rock in the Park magic. Although the Festival only runs every two years we have supported Rock in the Park each year it has run as part of Stevenage Day.
So, as ever, this year (2019) it was in a park (albeit a different one), it was free and it had a great rock line-up. We brought together the best of our local music talent on two great sound stages, finishing with a great headliner to close the event with the Wrong Jovi.
The hope for the day was -
"So come along and spend a lazy June Sunday afternoon sitting on the grass with your friends and family with a cold drink in your hand, listening to Stevenage bands old and new. Bring a picnic, enjoy the stalls, kids rides and entertainment that Stevenage Day has to offer and have a great day out."
For this year we had expected the same. Great weather (DRY!) and great music on two stages. We NEARLY made it on the "dry" with only a late and small dose of rain about 5:30 which took the numbers down a bit.
The Music will be very wide ranging in style from psychedelic Ska to Heavy-ish Metal. We'd like to get bigger and better in future years - more bands, more facilities, but we can only do this and keep it free if we all work together. If you loved Rock in the Park this year then please support us with this first step towards building it back to its past glory. If you think Stevenage needs events like this then tell your friends, tell your local Councillors, tell everyone! And, of course, come to as many Festival events in the Gordon Craig Theatre as you can - any money we make gets ploughed back into things like RITP and better events.
Stevenage Festival -
Keep up with what's happened on our Facebook page: www.facebook.com/RITPStevenage and also have a look at our photo galleries for the Main and Acoustic stages. The person who normally photgraphs and records RITP was, unfortunately, away so I stepped into the breach and posted shots of the artists as they appeared on the day. I did take some videos too (mainly short clips) of some of the artists. I apologise to those I don't put clips up for, as I couldn't be everywhere at once! These videos are now up on the Facebook page.
Bands and artists on the stages
HEADLINER - Wrong Jovi (click on the image below to visit their website) and they were on stage from approx 5:50 pm till just after 7pm.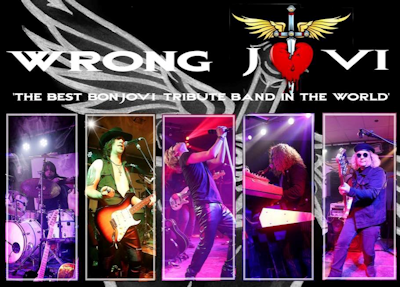 12:00
RITP "Battle of Bands" Winner - The Real Mckoys - Website - Facebook - SoundCloud
The Real McKoys are swingers . . . of music! Playing from the 50's pop ballads to the 00's, but turning them into Punk Rock anthems! The McKoys is a show not a gig, the dressing up gimmick loving maniacs are a night in for nostalgia and a night out for partying!
12:30
Meg Gregory - Facebook
Meg Gregory is an Acoustic Singer/Songwriter hailing from Stevenage, Hertfordshire. She has a wonderful voice and delivers songs in her very own style which is soft, spacious and very pretty.
12:50
Havanah - Facebook - Soundcloud - Instagram
Havanah. Four piece band from Hertfordshire. Guitars. Bass. Drums. Melodic songs, singalong choruses. Music as it should be. Unpretentious, unashamed, unambiguous.
13:20
Rafael Monteiro - Facebook page
Rafael is the singer/songwriter and guitarist for the band Almamor.
Almamor is a group of musicians who crossed paths on the London music circuit. With their debut album out now, this alternative Rock Band with influences from all over the world create music beyond trends and styles.
Originally from the UK, Portugal and Greece, these 3 musicians were brought together by their love of music, which is reflected in the band's strong chemistry.
13:40
The Barnyard Junkies - Facebook page
Barnyard Junkies formed in January 2017 and are based in Borehamwood, Herts. The band consists of four seasoned players (with a Female Bass player) performing covers and some original material in their set.
14:10
George Powell - Facebook page
George Powell is a singer/songwriter from Hertfordshire. He plays cover songs from artists such as Paolo Nutini, James Bay, Simon and Garfunkel, The Rolling Stones, The Bee Gees and many more as well as playing his own original songs.
14:30
FS1e - Facebook page
Quirky, strange, charming, and totally out there. The genre defying FS1E, a trio of hardened musicians from North Herts have crafted and created a unique sound of their own.
15:00
DrewJam - Facebook - Twitter - Website - Spotify (Single) - Instagram
DrewJam writes and performs rhythmic, catchy tunes with powerful, reflective lyrics. His musical heritage is rooted in an Irish ancestry and a northern English upbringing; he is a strong vocalist, classically trained since childhood in piano and guitar.
His stage presence, style and technique is very much his own, though he has many musical influences inspiring his musical technique and songwriting, including Eric Clapton, Sting, Mark Knopfler, Neil and Tim Finn, U2, Paul Weller, Roddy Frame, Tom McRae, George Michael, Deacon Blue and many others.
15:20
Nova - Facebook page - Website - Soundcloud
Formed in 2014, NOVA's captivating live performances has given the Herts based band a loyal local fan base. A regular at Hitchin's Club 85 and Balstock Festival, the band is currently recording its first album, due for release in early 2020. If you like your rock hard and fancy singing along to catchy tunes, such as festival favourites like 'My Bitter Blood', NOVA has exactly what you're looking.
15:50
Dallenger - Facebook page - Website
Dallenger set out on his music career at the tender age of eleven, often skipping school in order to tour the UK as the Lead guitarist with the Coalhouse Walker Blues Band. Some of his earliest influences include Mick Taylor, Rory Gallagher and in particular Johnny Winter; whose version of Chuck Berry's "JOHNNY B GOODE" was the inspiration behind initially learning to play the guitar.
Dallenger has taken time to craft his own sound; A contemporary take on Classic ROCK 'N' ROLL - brimming with catchy hooks and tasty licks, all served up with a certain youthful enthusiasm which should not be underestimated.
16:10
Cardinal Kings - Facebook page - Website
Cardinal Kings are a 4 piece Indie band from Bedfordshire, fusing incredible songwriting with catchy guitar riffs and spellbinding vocals. The mixture of tracks show off the young lads excellent talents.
With their EP and Music Videos out and some great shows booked, they have everything in place to start revealing themselves as the next big Indie Band.
16:40
Steve Young - Facebook page - Spotify - Website
"A top talent" says Radio 2's Bob Harris, "Sublime & Beautiful" according to Radio 2's Janice Long
Steve Young is a globe trotting session guitarist, teacher & entertainer turned Singer/Songwriter. He toured with ex Savage Garden front man Darren Hayes, which took Steve on trips around the world performing at the Royal Albert Hall, Wembley Arena, Brisbane QPAC, LA Roxy and many more concluding as co-writer on Darren's last album in 2012.
He crowd funded his debut Album "Troubadour" and in 2016, Steve has performed at The London O2 - Country 2 Country Festival, recorded live for Bob Harris' - "Under The Apple Tree" Sessions, opened for Carlene Carter (daughter of Johnny Cash's wife June Carter) as well as other opening sets.
His songs have enjoyed radio play around the world including BBC Radio 2, BBC Regional Stations, Radio Caroline, Chris Country Radio and 100's of community / online stations as well as a live performance on BBC Radio 2 to an audience of approx 7M listeners in Nov 2017.
Last year, Steve was Caffe Nero's "Artist Of The Month" playing over 45 in-store-performances.
Steve's 2nd Album "A Little North Of Nowhere" was released in September 2018. Self produced and featuring many of the UK'S most exciting country session players and artists, the album is proving to be Steve's strongest songwriting offering yet.
17:00
The Mynd Set - Facebook page
Filling a space that has long been empty in the British music scene, The Mynd Set are the era-bending, genre-defying purveyors of psychedelic freakbeat not seen since the heady days of Swinging London.
Aptly enough for a band of such raw, raucous energy, they were formed in Stevenage, a town which thirty-five years previously had earned a dedication on The Who's Quadrophenia.
They continue to offer unmatched power and excitement, but this time the likes of Steve Marriott and Pete Townshend are relegated from composer to influence as the burgeoning compositional genius of axe-wielding scallywag Leon Hewitt and organist Parsley The Lion instead becomes the focus of their act.
The Mynd Set go one step further than bringing the Mod sound up to date, with the eclectic Hewitt merging the best of the 1960s and the present day into one giant ball of danceable fuzz rock, complimented to perfection by the world's coolest bassist Glyn Tomlinson, the near-effortless drum masterclass of Chris Punter, as well as the sheer vocal powerhouses of Glyn Tomlinson and the one and only Parsley.
The raw and energetic sound that sums up the attitude and style of one of the best new bands on the scene.
17:30
NTC - Facebook Page
NTC is a upbeat modern Trio comprising of Nate, Tom and Clint. Together they are NTC and perform Acoustic Covers with big beats on a Cajon with vocals. They are known as the masters of the mash up as they they never play one single song, all of their performances are many different songs in and out of each other, a real musical treat for all.
17:50
Wrong Jovi - Facebook - Website - Twitter page - YouTube
Well, what can you say about them?
"Wrong Jovi are the The Best Bon Jovi Tribute Band In The World" - Described by tribute band expert (Channel 4's The Convention Crasher) and TV celebrity Justin Lee-Collins.
With attention to detail in sound and performance, Wrong Jovi were described as "better than the real thing" by Club 85, Hitchin at their very first gig. The Wrong Jovi show is second to none.
Wrong Jovi features some of the UKs finest professional musicians. With a set list crammed full of sing-along anthems, live favourites and rarities, audiences are guaranteed the ultimate Bon Jovi tribute show.
Also this year there will be performers in the bar area (All times approximate - session finishes at approx 6pm):
If you want to view last years set of performers then look here.
"Rock in the Park" T Shirts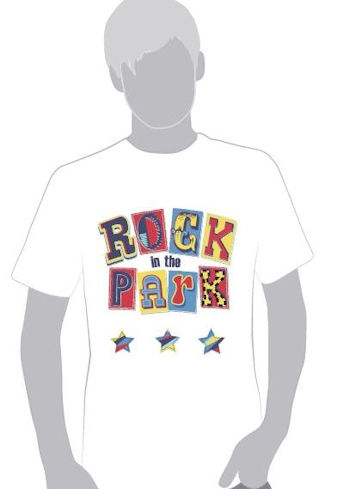 IF you've been on the RITP Facebook you may have seen the image for our Rock in the Park memorabilia T shirts - there are still some available - Here are the costs: £3 for one, £5 for a pair. IF you want one (or two) then get back in touch with us via email on info@stevenage-festival.co.uk stating sizes and we'll organise the sale and getting them to you. Or come along on the day and buy them at the Stevenage Festival stand.
Of course these sort of events take lots of planning and organisation and special thanks go to .... Kriss Lawrence at The Practice Roomz and Geoff Caine at Stevenage Borough Council.
Stevenage Festival
You can find us on our Facebook page or email us using the email link on this page.
Page Last updated: 29 May 2022