Stevenage Festival - 2022
2022 saw some further relaxations in the restrictions in the Theatre that had messed up the 2021 plans. So we planned a mini Festival for 2022 to enable some of the groups to be able to perform on the Gordon Craig stage again.
Please note: If you or your group would like to contribute to the 2023 Festival then do get in touch with us (see contact details at the foot of this page).
2022 was a "mini festival" for us so both Gordon Craig theatre and Frings events are covered by this page.
The Gordon Craig Theatre programme of events are listed below: (click on the links below to jump to the correct part of this webpage to view them)
Please note: All ticket prices shown are inclusive of a £1.00 Theatre Restoration Fee. So the ticket price below reflects the price per ticket you will pay.
There will be a number of fringe events away from the Gordon Gordon Craig theatre at around the time of the GCT events, and these are listed below:
---
Tues 28th June at 7pm
Gordon Craig Theatre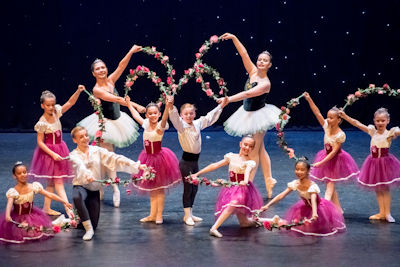 Stevenage Dance Schools Present:
Dance Extravaganza
Our Dance Extravaganza performance is a regular favourite for the Stevenage Festival and brings together pupils of all ages from Stevenage Dance schools for an exciting and colourful evening featuring all styles of dance.
Appearing are:
NCH School of dance
Premiere School of Dance
Footwork's School of Dance
Warriorz
Molly Vickers
NBDA
Camps Hill Stars Cheerleading
Tickets: £13, No Concessions - (incorporates Restoration Fee)

---
Wed 29th June at 7pm
GCT (Concert Hall)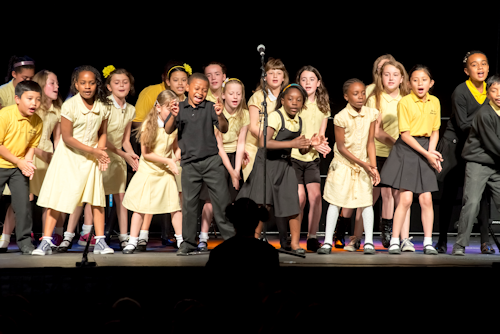 Stevenage Primary Schools Concert
This heart-warming concert features young people from primary schools across the Stevenage area, taking their first steps in musical performance on a big stage in front of their family and friends.

The Primary Schools Concert is a long standing highlight of Stevenage Festival, which sadly could not take place in the Summer of 2021, but returned this year to its role of showcasing the best local artistic talent.
Tickets: £12, No Concessions - (incorporates Restoration Fee)

---
Friday 1 July at 7:30pm
Gordon Craig Theatre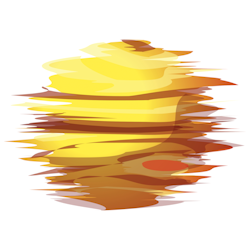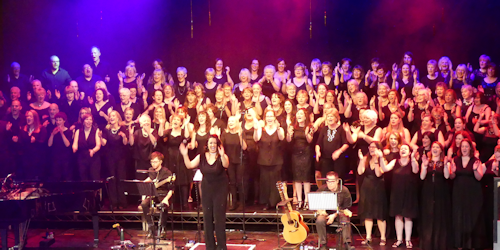 The Jupiter Singers
Stevenage Festival favourites, The Jupiter Singers, are delighted to be back performing once more at the Gordon Craig Theatre. With members from across the local area, the choir blends a passion for singing with a strong sense of community. The sparkling repertoire chosen by the choir, accompanied by a live band, spans pop, rock, musical theatre and Motown - there's something for everyone!
Meeting across the Home Counties in Letchworth, Hemel Hempstead and Amersham. Their Performances range from community appearances to large-scale events such as Sounds Around The Abbey in St Albans.
2021 saw The Jupiter Singers launch a brand new choir in Frinton-on-Sea, Essex to bring the magic of the choir to one of the UK's most iconic seaside towns.
Tickets: £18.50, No Concessions - (incorporates Restoration Fee)

---
Friday 1 July at 8:00pm
GCT (Ellen Terry Suite)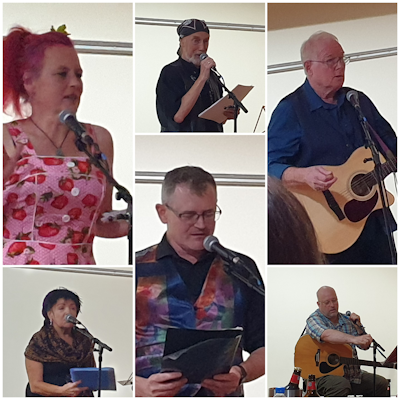 Parnassus Poetry - Here Lies the Truth
(and other pundemic tales)
The wonderful mixture of Poetry, Music and Humour that is a Parnassus evening (not for the easily offended!).
So much has occurred - and there's a fair bit to say
Parnassus are back! And they're not going away
There'll be humour and anger, and music also
From 8.00, when it starts, until they have to go
From humanity to politics, to war and to peace
There are simply no topics that they think are off-piste
Put the date in your diaries, cos this one's a must
Parnassus Performance! And a gig you can trust...
IF you would like to view the poster for the Parnassus gig (which shows those performing) - click here.
Tickets: £6, No Concessions - (incorporates Restoration Fee)

---
Saturday 2 July at 7:30pm
Gordon Graig Theatre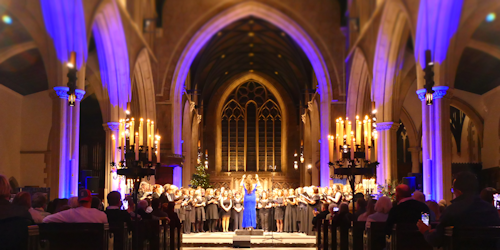 London Show Choir
Headed by the inspirational Pippa D. Collins and Matt Pallant, the London Show Choir will dazzle you with songs from their musical theatre, jazz, gospel and classical repertoire. Coming back to their local roots for one night only, you will be amazed by their bespoke arrangements, stunning harmonies and West End performance standard. A fun and uplifting night, not to be missed!
An outstanding, vibrant show choir on London's musical landscape, celebrating the worlds of musical theatre, jazz, gospel and classical music, the London Show Choir is fast becoming one of the most talked-about choirs in the UK.
The London Show Choir has risen to prominence, since its foundation in 2017, through a host of consistently sparkling and diverse performances. Highlights include backing Kerry Ellis on her 20th Anniversary UK Tour and Russell Watson during his 2018 Canzoni D'Amore Tour, supporting Rennie Grove Hospice in their 2019 concert series at St Albans Abbey, as well as hosting their own shows in London and the Home Counties.
A busy and varied 2019 saw London Show Choir fill Abbey Road Studios with 180 singers and a full orchestra to record in the iconic Studio 1, entertain audiences across the country in a range of live performances, as well as being featured on BBC Radio 2 and Scala Radio and 2020 saw London Show Choir perform a day of sell-out shows at The Actors' Church, Covent Garden. A return to live performances after the Covid-19 pandemic saw the choir host a glittering evening of festive entertainment in Central London in 2021 alongside Robert Lindsay and Rosemary Ford, in aid of The Royal Theatrical Fund. 2022 has so far seen a host of Central London appearances ranging from Kings Place's Voices Unwrapped festival to the London Landmarks Half Marathon.
London Show Choir are delighted to regularly collaborate with guest artists from stage and screen, including Hugh Maynard, Brenda Edwards, Kerry Ellis and Cassidy Janson.
London Show Choir is provided by Enigma Music Services Ltd.
Tickets: £20.50, No Concessions - (incorporates Restoration Fee)

---
Sunday 3rd July at 6:30pm
Gordon Graig Theatre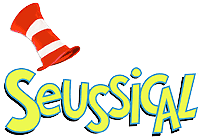 Stagecoach "Seussical™"
Seussical is a musical comedy by Lynn Ahrens and Stephen Flaherty, based on the many children's stories of Dr. Seuss, with most of its plot being based on Horton Hears a Who!, Gertrude McFuzz, and Horton Hatches the Egg while incorporating many other stories. .
Tickets: £ 15, £ 13 Concessions (incorporates Restoration Fee)

---
Sunday 4 June from Noon
Springfield House, Stevenage Old Town
Organised by Stevenage Arts Guild and Old Town Business Partnership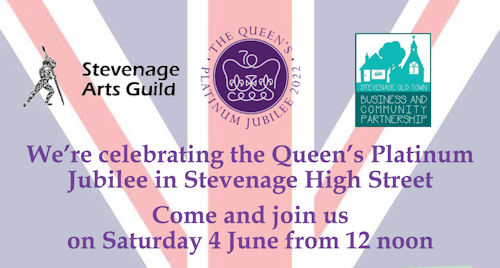 Queen's Platinum Jubilee
Stevenage Old Town celebrating the Platinum Jubilee. Amongst many other things Springfield House will provide barbecue and cream teas. For a view of the full poster listing all the events - Click here.
---
Sunday 4 June from 7pm
Stevenage Arts Centre, Roaring Meg, SG1 1XN
Organised by Stevenage Arts Guild and Old Town Business Partnership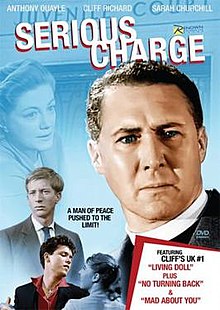 Serious Charge
Film showing as part of the Stevenage Old Town celebrating the Platinum Jubilee.
Film stars Anthony Quayle and is the first film appearance for Cliff Richard. It includes Living Doll and two other songs (in part) although the version of Livin' Doll isn't the hit version. Also was a screen debut for Jess Conrad who was uncredited - also (if you're of a certain age) you can spot Wilfred Pickles, who was also uncredited.
It was partly shot in Stevenage and other scenes were filmed at the MGM Borehamwood Studios.
Tickets: Free, available from Stevenage Arts Guild via Hilary Spiers contact her by email at hilaryspiers9@gmail.com.
---
Thursday 2 July at 10:30am
Stevenage Music Centre
TYP - Talented Young People
Presentation of Talented Young People awards for 2022 plus some performances by previous award winners. This will take place after the end of term concert at the Music Centre which starts at 10.30am
Stevenage Festival
You can find us on our Facebook page or email us using the email form on this page.
Page Last updated: 4 September 2022